Wicks, Frederick Edwin

1914 Star
Victory Medal
British War Medal

Private Frederick Edwin Wicks (9367)
Killed in Action on Monday 25th January 1915, aged 30
Son of Lewis & Elizabeth Wicks
Born Q1 1884 at Hurst
5 sisters, 3 brothers, position in family: 6
Relatives: Wife - Anne, children: Violet, Cecil and Albert. Brothers Albert Wicks and James Wicks
Local address: Long Itchington

Enlisted:
Stone quarryman (lime and cement manufacture)
Regiment:
Royal Warwickshire Regiment
Battalion:
1st Bn.
Died:
Monday 25th January 1915
Cause:
Killed in Action
Age:
30
Commemorated:
Grave at Prowse Point Military Cemetery
From the Battalion War Diary:

Jan 25 1915. Bn in trenches near village of St Yvon. Quiet night. A few shells dropped in village. Heavy sniping throughout the day. 2 killed, one wounded. Weather improving. 2nd Lt ? and 40 OR joined.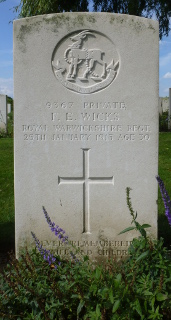 Prowse Point Military Cemetery
Ever remembered
by wife and children