Millard, Alfred George

Private Alfred George Millard (42210)
Died of Wounds on Friday 4th October 1918, aged 20
Son of Alfred & Frances Millard
Father's occupation: Carter
Born 4th August 1898 at Hurst
2 sisters, position in family: 2

| | |
| --- | --- |
| | |
| Infant School: | Hurst Infants |
| Senior School: | Hurst Boys |
| Admitted: | Monday 17th April 1905 |
| Age on admission: | 5 |
| Left school: | Thursday 18th January 1906 |
| Age at leaving: | 7 |

Local address: Dunt Lane, Hurst

Enlisted:
Wokingham
Regiment:
Royal Berkshire Regiment
Battalion:
2nd/4th Bn.
Brigade:
184th
Division:
61st
Died:
Friday 4th October 1918
Cause:
Died of Wounds
Age:
20
Commemorated:
Grave at St. Venant Communal Cemetery
Alfred Millard was an organist and a student at the Royal College of Music when he enlisted.

Wednesday 2nd October 1918
France, Line
Two platoons of "A" Company attacked BARTLETTE FARM, one from North and one from West. Zero 5.45 a.m. Artillery Barrage assisted by Trench Mortars and Vickers Guns for 40 minutes commencing at Bartlette Farm and sweeping back. Very slight resistance offered by the enemy. Four prisoners captured. On information being sent back "B" Company took up a position on the left of "A" Company and the advance commenced with "A" and "B" Companies in Front and "C" and "D" Companies in Support. Position at 9 p.m. (2.10.18) was H.30.c.5.3. - H.30.a.5.5. - H.23.d.8.9. BHQ (advanced) H.23.a.3.3. — Battalion Headquarters (rear) Ferrits Post.
Front line and Advanced HQ were heavily shelled at dusk, and HQ (adv) moved to I.32.c.8.3.
Thursday 3rd October 1918
France, Line
Advance continued at 6.30am. "B" and "C" Coys in front, "A" and "D" Coys in support.
1st objective gained at 11.45am, the line running NE along old British line through I.31. and I.26. Advance continued, the positions at 9p.m. being from I.27.c.9.3 to I21 central in front of distillery in I27. c. Battn was relieved by 11th Somerset Light Infantry and withdrew to ROUGE DE BOUT and embussed proceeding to PECQUER. Battalion disposed in billets in area. Cleaning up and resting.

Alfred lies not far from where he died, in St. Venant Communal Cemetery.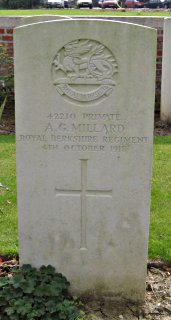 St. Venant Communal Cemetery