Blandy, John Marett

1939 - 1945
Star
1939 - 1945
War Medal

Warrant Officer Class II (R.Q.M.S.) John Marett Blandy (13804)
Died on Tuesday 30th November 1943, aged 32
4th (Malacca Volunteer Corps) Bn., Straits Settlements Volunteer Force
Son of Capt. Claude Milberne Blandy, Royal Field Artillery (died in France 8th April, 1916), and of Juanita Christine Blandy, of Reading, Berkshire.
John Blandy was born on 3rd March 1911 in St.Helier, Jersey to Claude and Juanita Blandy.

He was taken prisoner while serving in the Far East with the Straits Settlements Volunteer Force, and was held in a PoW camp in Malaya. He died while working on the Thailand-Burma Railway.

John rests in the Kanchanaburi War Cemetery, Thailand.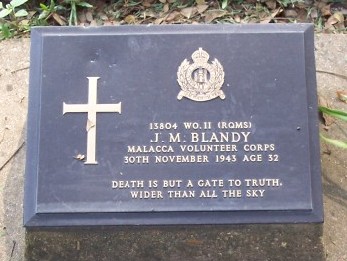 Kanchanaburi War Memorial Cemetery, Thailand
Death is but a gate to the truth, wider than all the sky
image: GulfportBob